Yesterday I showed you the inspiration for this project, and today I give you the pocket quad, as the title so states.  I chose to use mine to liven up a simple tee, but they'd be fun on anything: a backpack, skirt, apron…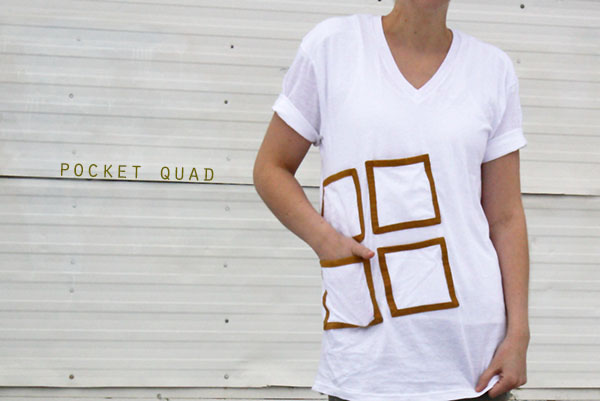 Simple enough, so let's skip the jabber and get right to it!
MATERIALS NEEDED
pack of plan t-shirts
bias tape
matching thread
INSTRUCTIONS

1. Keep one t-shirt in tact, and use the other to cut up into pockets.  Mine are 5″ squares.
2. Sew bias tape around the edges of each pocket.
3. Mark pocket placement onto the t-shirt with a pencil and ruler.  It helps to keep something flat inside the shirt while you do this, like a cutting mat, cardboard, or a cutting board.
4. Use the pencil markings as your guide, and sew each pocket in place, leaving the top open (obviously) and back-stitching at the beginning and end for reinforcement.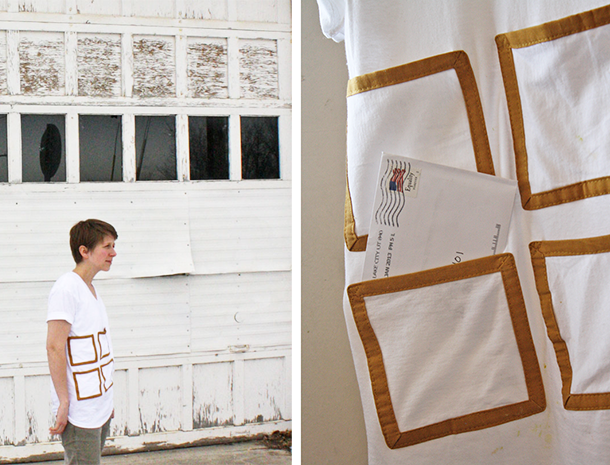 You can never have too many pockets.  It's FUNctional. Yes, I said it.